Nikon D5300 DSLR Camera Body with Dual Lens: AF-P DX NIKKOR 18 - 55 mm f/3.5 - 5.6G VR + AF-P DX NIKKOR 70 - 300 mm f/4.5 - 6.3G ED VR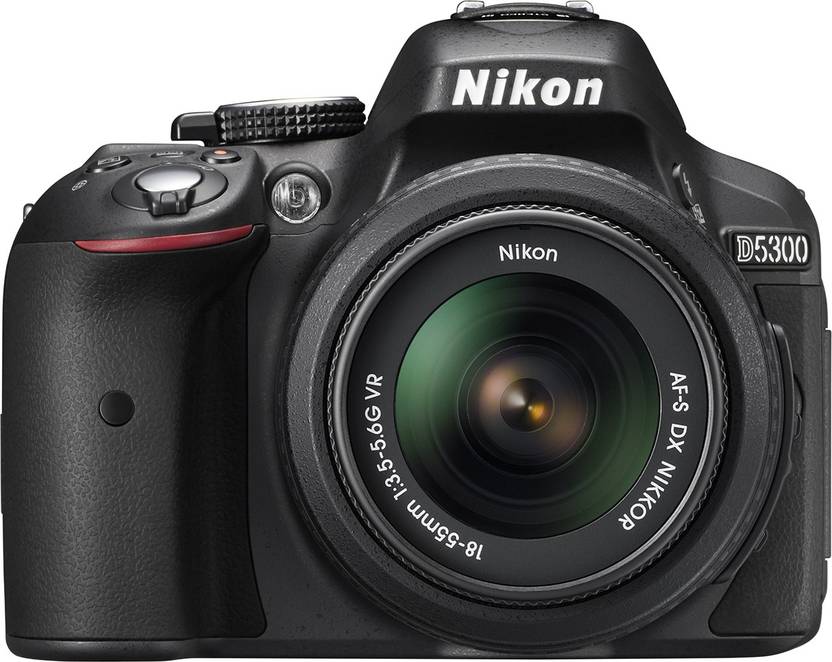 This is lightweight, full-featured DX-format Nikon D5300 DSLR with Image quality, connectivity and creative control.
CUTTING-EDGE INNOVATIONS : It contains the EXPEED 4 image processor is the perfect companion to the 24.2-megapixel DX-format CMOS. Capture full-resolution 12-bit RAW images at up to 5 frames per second.
It has a D-Lighting function that sets the exposure for the subject. The DSLR comes with the GPS function while it also has the Toy Camera and HDR Painting modes apart from 7 other special modes.
Every new D5000-series camera so far has come with an upgraded processor, and the Nikon D5300 DSLR Camera has the new Expeed 4 image-processing engine. This allows the same 5fps shooting speed as that offered by the D5200 but the new processor should allow quicker and more accurate calculations from the 2016-pixel RGB sensor. In turn, this should achieve better colour rendition. Also, the Expeed 4 processor should improve the noise performance throughout the ISO sensitivity range.
The Nikon D5200 saw the introduction of Wi-Fi compatibility via two additional extras – a WU-1a Wi-Fi module and a GP-1 GPS module, which cost around £250 combined. Thankfully, the D5300 has both Wi-Fi and GPS built in, so users can geotag images, send pictures to a smartphone/tablet and even wirelessly control the camera from a smart device via the free Nikon WMU app.
As well as the night vision, colour sketch, miniature, selective colour, silhouette, high key and low key effects, the Nikon D5300 includes two further special effects modes in the form of toy camera and HDR painting.
You can set both the aperture and the shutter speed during movie recording, although the slowest shutter speed is limited to 1/30th second, plus exposure compensation and AE-Lock can also be set. Out of the box the D5300 can record stereo sound via its built-in microphone with three different levels of sensitivity on offer, and improved sound can also be recorded using an optional external microphone. The maximum size of a single video clip is 2 gigabytes which, given that movies occupy about 100 megabytes of storage space per minute, would theoretically translate into about 20 minutes of continuous recording.
FLIR Italy