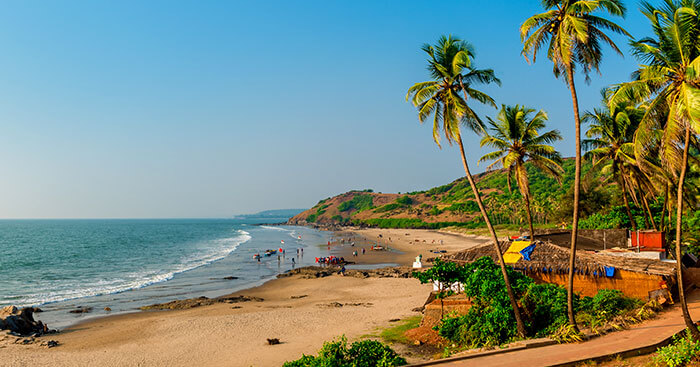 Goa is one of the beautiful places in India with coastlines stretching along the Arabian Sea. Here Portuguese culture is so famous, you will find so many names and places related to that culture. Goa is also called a place of beaches and vacations because of its beauty and the nature of people living here. They are really happy people and enjoying their lives. If you are planning an interesting vacation in your budget, Goa is one of the best options because here you can have the best place to live in cheap cost especially if you are coming from Europe, Israel, and Poland because people of Goa love to serve these country peoples. Goa is a place of party and many eventful interesting nights.
BEST TIME TO VISIT GOA
As we all know Goa is an evergreen place for vacations but the best to visit Goa is mid-November to mid-February when the weather is comfortable and pleasant.
BEST DISHES OF GOA TO TRY
Image Source - shoesonloose.com
Goan Squid Fry - It's one of the best complement with one glass chilled beet. It's one of the most consumed seafood in Goa because of its softness and crunchy taste.
Image Source - shoesonloose.com
Bebinca - This dish was brought to Goa by Portuguese but Indians made it even better by adding their own ups and downs. The seven layers of the cake are prepared from seven varied ingredients making it the most delicious food to eat in Goa.
BEST HOTELS TO STAY
Hotel Supreme Grande
Room Starts from $39
Lemon Tree Amarante Beach Resort, Goa
Room Starts from $98
BEST FLIGHTS TO FLY IN YOUR BUDGET
We know you want smooth fly for your vacation in your budget that's why we have one of the best options for best flight tickets. Click on below link to book one of the best flight ticket because we care about you and your journey.
SOME HIGHLIGHTS OF GOA VACATIONS
PLACES TO EXPLORE IN GOA
Here are some places where you must go if you are planning for a vacation in Goa. These places are the real identity of Goa culture and tradition.
Img source - www.thrillophilia.com
Baga Beach
Img source - www.thrillophilia.com
Calangute Beach
Img source - www.thrillophilia.com
Grand Island
Img source - www.thrillophilia.com
Fort Aguada
There are many more places in Goa to explore. If you want to explore more SEARCH HERE
So enjoy your travel in Goa because life is all about happiness, we all came to this world to explore things and nature so keep learning and exploring. Goa is one of the places where you will feel the peace in nature's lap. Please share your traveling experience with us in the comment section below and mail us at This email address is being protected from spambots. You need JavaScript enabled to view it. for advertisement.
ALSO, READ RELATED ARTICLES: