Each of us is looking forward to the first rays of the sun. We protect our eyes with glasses against UV rays and the skin against excess sun. Not only when sunbathing on vacation, but every time we expose our body to sunlight, we should protect it with a suitable sunblock, because solar radiation is not healthy and often causes many skin diseases, and also contributes to faster aging our skin. And all of us, especially women, try to avoid it.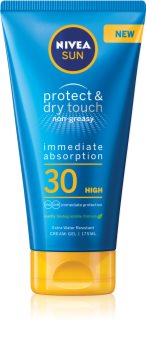 Here are some myths about tanning that you should not believe.
Skin protection once a day.
Some believe in this myth and only lubricate themselves once a day when leaving the house. Unfortunately, this is not true, because after applying the cream to the skin we are only under its protection for a few hours (2-3 hours), after this time you should use the cream with the UV filter again. If you plan to sunbathe longer on the beach, have not only glasses and a hat in your beach bag but also a cream that will protect your skin.
Applying a protective cream during tanning.
The application of protective factors in the form of a cream is a bit delayed when tanning. You should apply a moisturizer at least half an hour before exposing your body to the sun's rays. The body prepared for sunbathing will provide you with proper protection.

The shadow doesn't tan.
Another myth to stop believing. Being in the shade, we also catch the sun's rays that let clouds and trees through. Up to 90% of rays can penetrate and tan our body. Also, don't forget to brush your body with a cosmetic filter to protect your skin while in the shade.
A thicker layer of cream - better protection.
Too much cosmetic applied to the skin does not protect better or for longer. Each tanning cream or lotion should be used in accordance with the manufacturer's instructions, as in the leaflet on how to use it. If you use too little cream it will not protect the skin well and sunburn may occur, and if you use too much it will not protect as it should. The amount of cream applied to the whole body, which experts recommend, is about the same as a table tennis ball.
Tanning the body before tanning.
Some believe that if we already have a little tanned body, we are not threatened with sunburn, this is another myth. Often, people planning a vacation in warm countries before leaving, for example, go to a tanning salon to tan their body a bit, then they think that it will protect their skin from the first dose of sunlight and help to avoid redness of the skin, unfortunately this is not true. Use the sun in moderation and always use appropriate products that are designed for this purpose.
Let's also remember that tanning is healthy, because it is a source of vitamin D , only one should be properly prepared and do it wisely. Not only lounging in the sun but also enjoying family walks on sunny days.
SUGGESTED ARTICLES FOR YOU